This was my first time making bread by hand (or mixer, I should say) and it turned out so delicious! I like to keep the link to my recipes so that I can go back and look at the comments. People are always saying how they changed things a little and it's very interesting. Here is the link to this bread:
http://allrecipes.com/Recipe/Simple-Whole-Wheat-Bread/Detail.aspx
Next time I plan on using all whole wheat instead of half and half. The things I did differently are in
blue.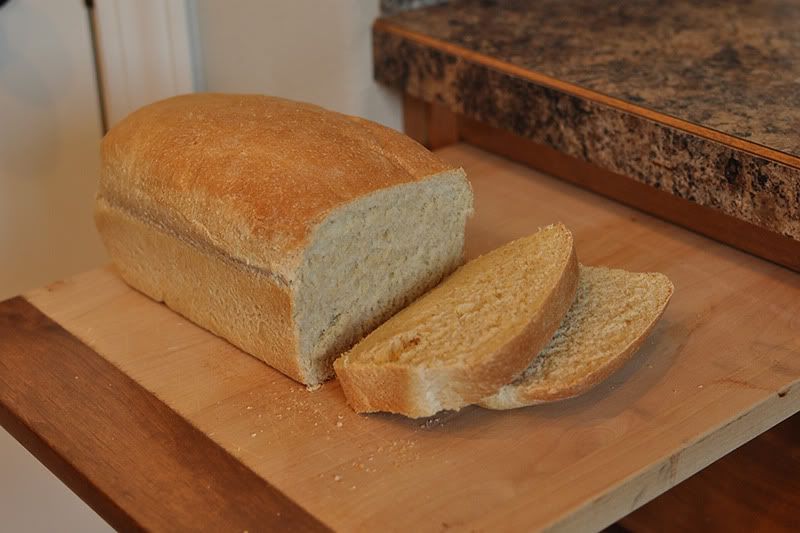 Simple Whole Wheat Bread
3 cups warm water (110 degrees F/45 degrees C)
2 (.25 ounce) packages active dry yeast
1/3 cup
honey
5 cups bread flour
3 tablespoons butter, melted
1/3 cup
honey
1 tablespoon salt
3 1/2 cups whole wheat flour (I used 4 C total)
1/4 cup gluten flour aka: dough enhancer

*
2 tablespoons butter, melted
Directions
1. In a large bowl, mix warm water, yeast, and
1/3 cup honey
. Add 5 cups white bread flour, and stir to combine. Let set for 30 minutes, or until big and bubbly. (
I assume this is just to help the yeast grow and activate??
)
2. Mix in 3 tablespoons melted butter,
1/3 cup honey
(
this is the second time you add honey, I almost missed it because I thought I had already done it, which I had, but you do it again
), and salt. Stir in 2 cups whole wheat flour
and gluten flour
. Flour a flat surface and knead with whole wheat flour until not real sticky - just pulling away from the counter, but still sticky to touch. This may take an additional 2 to 4 cups of whole wheat flour. (
I used my Kitchenaid for the kneading, and it took me 2 extra cups of flour, 4 C whole grain flour total.
) Place in a greased bowl, turning once to coat the surface of the dough. Cover with a dishtowel. Let rise in a warm place until doubled.
3. Punch down, and divide into 3 loaves. Place in greased 9 x 5 inch loaf pans, and allow to rise until dough has topped the pans by one inch.
4. Bake at 350 degrees F (175 degrees C) for 25 to 30 minutes; do not overbake. Lightly brush the tops of loaves with 2 tablespoons melted butter or margarine when done to prevent crust from getting hard (
I didn't do this and the crust was just fine
). Cool completely.