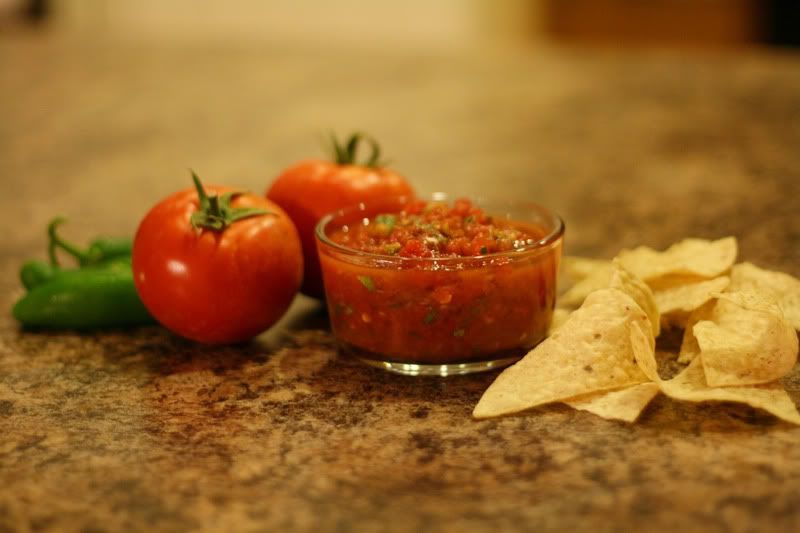 1 can Mexican Stewed Tomatoes
½ can chopped Green Chilies
3 green onions
Cilantro (maybe 2 T or more)
1 jalapeno
1 clove garlic
½ tsp garlic salt
½ tsp cumin
½ Tbl worcestershire sauce
Juice of half a lime
3-4 fresh garden tomatoes
In a food processor, combine all ingredients EXCEPT the fresh tomatoes. I cut the onions and pepper into smaller pieces. If you want it spicy, leave most of the seeds in the jalapeno. If you don't want it spicy, you can leave it out I guess. Or just remove all the seeds and the white insides. It's really not that spicy that way. You could use a milder pepper as well. But I like it hot! Chop until you are sure the garlic and pepper are chopped small. I usually let my food processor run for quite awhile. I've never had a problem with it blending my salsa too thin. Pour mixture into a bowl. Peel tomatoes and chop small (with a knife, not in the processor). Add together and chill.
This recipe is halved, if you can't tell. If you have a larger food processor you can double this recipe and make it easier. ½ Tablespoon is equal to 1 ½ tsp if you don't have a ½ T measuring spoon.
I got this recipe out of a cookbook but I changed it a lot so I guess that makes it mine :) Maybe I should call it 'Joanie's Awesome Salsa'. The only thing I don't like is that it calls for canned tomatoes but I don't know how to get that flavor from scratch. And I put a lot of fresh tomatoes in as well.