Sometimes I come across a recipe that is so good I feel it is a shame not to share it with someone. Here is my newest one: Homemade Pizza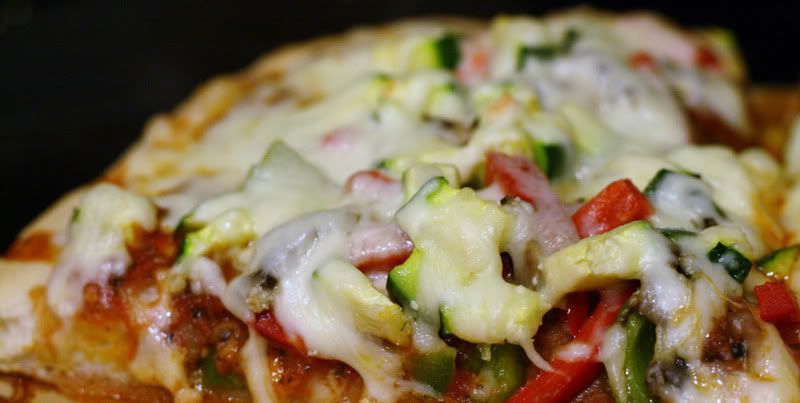 This is SO good. And you can make whatever kind of pizza you like. I've posted the recipe for this dough before with another pizza. It is so easy in a breadmaker. If you don't have a breadmaker you would have to knead it by hand, but I'm telling you it's worth it.
Pizza Dough
1 C warm water (95-105 degrees)
¼ C olive oil
2 T honey
3 ½ C flour (sometimes I use both white and wheat mixed, but I don't really like just wheat)
½ tsp salt
2 T yeast (2 packets rapid-rise)
You put everything in the breadmaker in this order, making a little well in the flour for the yeast so it doesn't touch the water yet. Then you set you breadmaker to the 'dough' setting and you start it. Mine takes 1 ½ hours to rise and what-not. Here are some instructions if you don't have a breadmaker:
http://www.fabulousfoods.com/recipes/article/46/17753
Once you have the dough made, let it cool a little and then roll it out on a floured countertop and put it on your pizza pan that has been sprinkled with cornmeal. Bake at 400 degrees for 10 minutes. Then add your toppings and bake for another 10-12 or until cooked through.
Another problem I had was the sauce. I hate store-bought pizza sauce so I tried a few different ones and I came up with this.
Pizza Sauce
½ onion, minced (sometimes I add more)
1-2 cloves garlic, minced
2 T olive oil
16 oz tomato sauce
2 tsp sugar
1 tsp dried oregano leaves
1 tsp dried basil leaves
½ tsp salt
Sautee onions and garlic in oil until cooked through. Add remaining ingredients and simmer for 15-20 minutes (or as long as it takes to get everything else ready). The original recipe called for a can of tomato paste, but I think it is way too rich with that so I leave it out. The sauce is a little runny, but I like it.
Then you can put whatever toppings you like. I usually use sausage (cook in frying pan while waiting for crust to cook and sauce to simmer), pepperoni, green peppers, mushrooms, mozzarella cheese and parmesan cheese.
I had a veggie pizza at Firehouse that was really good so I thought I would try something like that last time. I still put some sausage and pepperoni, just not very much. Then I piled it high with red and green bell peppers, mushrooms, and zucchini. It was really good. The pizza I had at the restaurant had tiny pieces of Canadian bacon or something on it and that was the only meat. It gave it a nice flavor. I might try that sometime.
I've also had this Garlic Ranch Chicken Pizza on this crust and it was also incredible.
http://www.favfamilyrecipes.com/2008/07/garlic-ranch-chicken-pizza.html
I chopped the tomatoes small, though. And I use rotisserie chicken because it's easy and really, really good. Mmm.