In my attempt to eat more whole foods and less processed foods, I put together this recipe. I can't avoid sweets altogether. But there are sweeteners that are in their pure form, unlike high-fructose corn syrup and white, refined sugar. These aren't necessarily low calorie (about 98 calories per cookie, if you make 24 with this batch), but they use natural foods that are easier on your body. And I'm sure they have some fiber from the wheat flour and oats, and some antioxidants from the dark chocolate :) They really are yummy. But then again, I am used to whole wheat so if you aren't, they might seem a little off. I look at it as something healthy, then I'm pleasantly surprised that they are sweet and chewy. If you look at it as a normal cookie, you might be a little disappointed.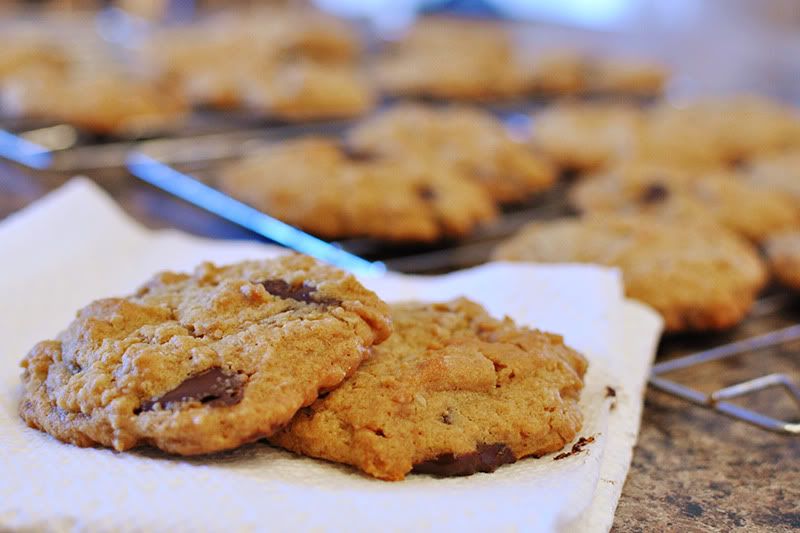 Peanut Butter Oatmeal Chocolate Chip Cookies - Healthy!
Cream together:
½ C unsalted butter, at room temp
½ C peanut butter (organic, smooth)
1/3 C organic sucanat
¼ C honey
1 egg
1 tsp vanilla
Sift together:
1 C whole wheat flour
1 tsp baking soda
¼ tsp salt
Then add to cream mixture.
Stir in:
½ C oats (I used quick oats)
½ C dark chocolate chips (I used Ghirardelli 60% cacao)
Preheat oven to 350 degrees. I made smaller cookies, 12 to a cookie sheet, and baked them for about 9 minutes a piece. I like that this recipe makes only two sheets of cookies, because then you don't have them taunting you for days.